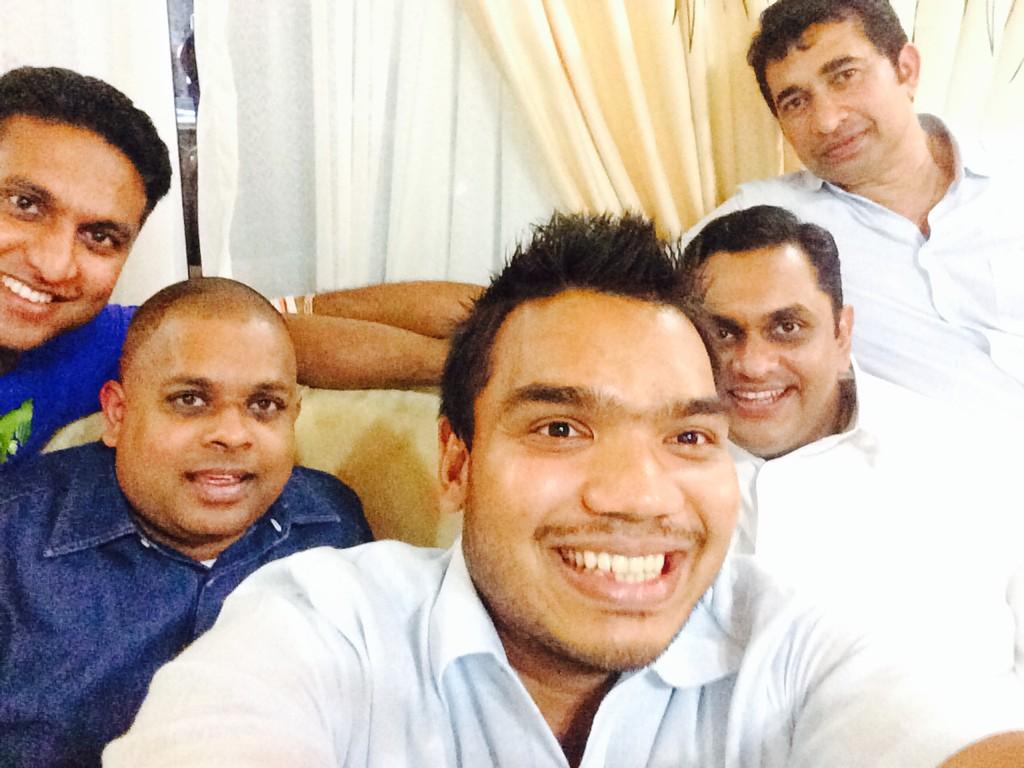 I'm so sorry life has been so hard for you lately. I'm sorry about your horses and all those unlicensed elephants now astray on the streets of Colombo. I'm sorry you had to say goodbye to all those Ferraris, Audis and Bugattis you bought with your hard-earned trillions of tax-payer money. I'm sorry about all that gold from the treasury that went missing, the mystery must be keeping you up at night. How is your mother by the way? The story around town is that "She sells sea shells by the sea shore of the Seychelles". Satire aside, I hope she's well, I think she wasn't all that bad. I'm sorry your brothers lost their rightfully earned captaincy in the military rugby teams. To have three brothers talented enough to captain the tri-force teams at the same time was truly a blessing for the nation, such a beautiful coincidence, in fact it might be "Asia's Miracle." I'm also sorry about those phone calls you got, but I guess, if I were you I'd be happy I'm getting any calls at all, because from what we hear, all those who used to be in line to talk to you have now crossed over to our side. (I mean you still have Weerawansa, but who wants to be on the phone with him, right?) Now that you don't have to spend so much time on Rugby I see that you've gotten really into sharing your grievances through blogging. So don't get so down on yourself, at least you've got that going for you.
I'm not writing to merely offer you my sympathy. I'm writing to thank you.
I want to thank you and your family's regime for the great lesson you all taught our great nation; the lesson of politics, karma and and the power of the people. While there were certain things that your father and his regime did for this country that we will always be grateful for, there is so much that you all have done, that will never be forgiven. You spent most of your time in power trying to victimize others through your power, and assuming way too much. You assumed that despite Sri Lanka being such a small country, nobody will notice the culture of corruption you created. You assumed that what felt right for you was what was right for the country. You assumed that all Sri Lankans suffer from Stockholm Syndrome and that we will love you and vote for you, no matter how bad you treat us. You assumed that stripping the General who took bombs and bullets to lead this country to freedom off his ranks and having junior military officers drag him to jail was the right way to go about. You assumed that minorities didn't matter, you didn't care to reconcile, you didn't want to hear their struggle. Not your electorate, not your people, not your problem. (Equal rights, screw that, right?) You took away their lands in the north, and you seized our lands here in the south, with no compensation. You assumed that thugs and family were the masters of foreign policy, so you gave diplomatic passports to hundreds of henchmen and family members and sent them away to important foreign service posts, while the hardworking students who crawled up the free education ladder and passed the Foreign Service exams with flying colors stayed at home, unemployed. You assumed that killing our protesters, threatening our journalists, censoring our media and taking down anyone who criticized you was the way to go.While you can grieve all about being a victim of vengeful politics, you must know that your family wrote the book on vengeful politics, imprisoning political opponents and wrongfully impeaching Chief Justices.
Our country with all its diversity and baggage has a habit of uniting as one and working together to save our nation from times of grave depression. Such instances are a rare sight. One such instance was the 1948 independence struggle when Sinhalese, Tamils and Muslims united to fight against colonialism. And since then, the first time we all united to fight for the democracy of our great nation was this Presidential election when we overthrew your regime. I think a main reason for this was that the fact that the governance your regime believed in was your own kind of colonialism. The Brits enslaved us, took away our rights, seized our lands, stole our resources, invested in our country and sent the benefits they wrongfully reaped back to their homeland. You did pretty much the same, with the exception of the fact that instead of giving the benefits to the homeland, you took them home. I'm writing to thank you for reminding our nation which has been apart for many decades, the power and the importance of uniting as one people. It wouldn't have been possible without you.
May the noble triple gem bless you and the gods forgive your sins even if the Supreme Court doesn't.
(There are several mistranslated versions of this post circulating in the media. Please note that I have not yet released this or its translated versions to any other website. This is the only legitimate version of this post.  Any post similar to this shared on other websites was not done so upon my approval.)